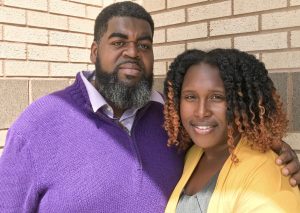 Marco & Jacinta Winston
AV Directors/Leaders of Special Projects
Marco and Jacinta Winston joined the Living Word family shortly after the church was founded. Eager to help propel the ministry's vision, they assisted where needed until they accepted roles as AV Directors/Leaders of Special Projects.  College sweethearts, they have been happily married since 2006 and are the proud parents of two boys – MJ and Bryce.
Jacinta is a Mississippi native and graduate of the University of Southern Mississippi. A lifelong Christian, she spent her childhood active in her church and Baptist association.  As her faith has matured, God has consistently revealed himself in her life.  As a professional, Jacinta leads others with a heart centered in faith and ensures she takes time for her first ministry – her family.  Regardless of the situation, she strives to be content at all times knowing God will give her the strength to endure (Philippians 4:11-13).