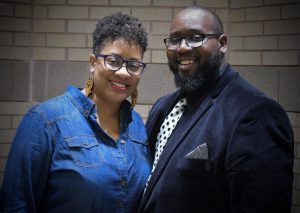 Benjie Lewis & Sherida Lewis
Worship Pastor & Worship Coordinator
Benjie and Sherida Lewis were joined in holy matrimony under the ministry of Pastors William and Bridgette O'Neal and the Living Word Church Ministries family. Under the direction of the Holy Spirit, the pair organizes the worship experience of the church through music. The couple resides in Jonesboro, GA along with their twin children, Terrance and Brooklyn.

Benjie Lewis' Bio:
Benjie is a man after God's heart. He was born and raised in the small town of Loris, South Carolina. He began playing in church at the age of 5. He would continue his path as a young musician in the community playing for various churches and community choirs. He attended Savannah State University and later graduated from Savannah Technical College with a degree in computer networking.
As he developed a closer relationship with God, he also developed a stronger desire for the preached word. He was licensed to preach the gospel under lead Pastor William O'Neal and currently serves as Worship Pastor at Living Word Church Ministries. Life Verse Romans 8:18

Sherida Lewis' Bio:
Sherida is originally from Conway, South Carolina where she was reared and developed in the Kingston Lake Missionary Baptist Association. Her family's ministry heavily focused on developing children, the next generation. As she grew into adulthood, she carried this ministry in her heart and chose Early Childhood/Elementary Education as a profession. She has worked in education as a teacher and curriculum developer for almost 17 years. Life Verse Jeremiah 29:11